Nicholas Waters 3rd in Final Round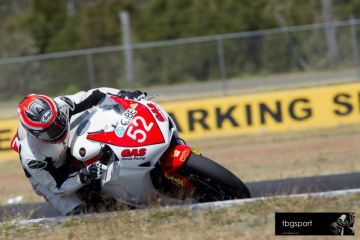 A 2nd and 3rd place this weekend and a 3rd overall for Nicholas Waters on his GAS Honda Racing CBR1000RR on the Australian Prostock 1000 Championship. It was a tough weekend at Queensland Raceway in Ipswich, Nicholas started the weekend qualifying in 2nd position and taking 2nd and 3rd placings giving him a 3rd place overall for the round and finishing the Championship in 4th position, brilliant results given injury earlier in the year saw Nicholas have to sit out for 2 full rounds of the Championship.

After spending qualifying sessions working on setup Waters went on to qualify in 2nd position only 0.5 seconds behind pole position. Waters went on to place 2nd in race 1 after struggling with technical issues however still finished nearly 10 seconds ahead of his nearest competitor in 3rd place. Waters got a brilliant start and settled into a steady rhythm to lead the race until lap 4 when he began to suffer grip issues due to picking debris up on his rear tyre from the track.
With another brilliant start in Race 2 Waters again settled into a steady rhythm in first place, only to run off due to a technical problem on lap 14, putting him back to 3rd position. As always Nicholas demonstrated the determination he is known for and continued to fight hard securing 3rd position, giving him 3rd overall for the round.
Waters – 'I'm reasonably happy with the round results however I came here looking for the win. We suffered due to some technical problems, however I am not making any excuses. Once again I want to thank everyone in my team, GAS Honda Racing, especially Geoff Winzer and Garry House, for all their efforts in preparing the bikes and for all their hard work over the weekend. Also a big thanks to my sponsors – Honda Australia, Kirk McCarthy Award, Arai, Monza Imports, Dunlop, Alpinestars and Ktech suspension. Also thanks to the Racesafe medical team who are always there to help get us through the weekend. I am looking forward to competing in the support Superbike class at the Phillip Island MotoGP in October and hoping for even better results.'

The team is still currently chasing a major sponsor for the MotoGP round to be held at Phillip Island from the 26th – 28th October. For more information please contact Jodie Pitt on 0400 608 398