Nick's Brilliant Return to Racing at Philip Island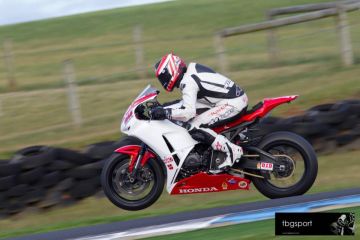 Nicholas Waters has yet again put his GAS Honda Racing CBR1000RR on the top step of the Australian Prostock 1000 podium after a brilliant return at the weekend at Philip island in Victoria. Nicholas started the weekend with pole position and 1st and 3rd placings giving him a 2nd place overall for the round proving to all that he is back after injury as strong as ever.
After qualifying 1.3 seconds clear of his nearest rivals in wet conditions, Waters went on to win race 1 nearly 2 seconds ahead of his nearest competitor. Waters got a brilliant start and settled into a steady rhythm to lead the race from start to finish by approximately 2.5 seconds for the majority of the race.
With a red flag at the start of race 2, causing a restart due to a crash and some confusion on the grid because of unsettled weather conditions, Nicholas again got a great start. A small excursion off track on lap 6 saw Waters drop back to 7th position. Showing the determination he is known for Waters came back working himself up to a hard fought 3rd placing, giving him 2nd position overall for the weekend.
Nick said "I'm reasonably happy with the round results however it's not where I wanted to be. I came here planning to win both races but given it is my first round back after injury, I'm happy with the results. I can't say enough about the GAS Honda Race Team and the bike they have prepared for me this weekend. Huge thanks to Geoff Winzer and Garry House for all their hard work in preparing a great bike for me to ride this weekend. Also a big thanks to my sponsors - Honda Australia, Kirk McCarthy Award, Arai, Monza Imports, Dunlop, Alpinestars and K-tech suspension. Also thanks to the Racesafe medical team as without them I wouldn't have made it through the weekend. I'm looking forward to taking out the last round at QLD, all going to plan."