Record Breaking Weekend For Waters!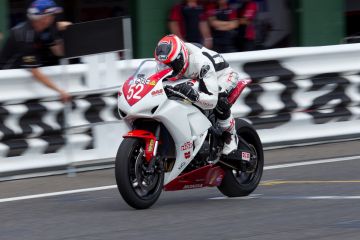 Nicholas Waters has yet again put his GAS Honda Racing CBR1000RR on the top step of the Prostock podium after a remarkable weekend at Hidden Valley Raceway in Darwin. Waters completed the perfect weekend by taking pole position, two race wins and smashing the lap record along the way.
After starting things off on the right foot throughout Thursday and Friday's free practice sessions Waters continued to impress in qualifying. A new Prostock qualifying lap record of 1m09.118 was enough to secure pole position in the Prostock class and 8th overall on the Superbike/Prostock grid. Waters kept the ball rolling into race 1, convincingly taking the Prostock race win, setting yet another new Lap record of 1m08.993 and finishing on the tail of the Superbike field. With less than one second between his fastest and slowest lap Waters showed that he can consistently throw down smooth fast laps. In Race 2 Waters once again got off to a flying start charging away from the Prostock field. With his head down he managed to break his own lap record and set a new Prostock record of 1m08.835. Towards the end of the race Waters noticed the temperature of the bike was getting a bit high and slowed to take a smart race win.
Waters - "I'm over the moon about how round two has gone, I couldn't ask for anything more. It was really good to be just off the pace of the Superbikes on my Prostock bike and to set two new lap records was even better. It was really hot over the weekend and my hand was hurting a little bit from a dog bite last week, but I managed to push on and get the job done. A really big thanks to my team GAS Honda for everything they have done, also to Jodie Pitt for running around after me all weekend. I can't say enough for everyone who is helping me this year, a big thanks to all of my sponsors including Mick Kelly and Tracy Osterfield for their support. Also I huge thanks to the Race Safe Team as without them I wouldn't have made it through the weekend."