Nick Waters wins on debut in Prostock 1000 Championship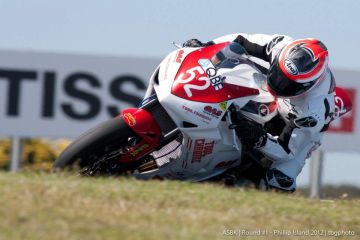 GAS Honda Racing's Nicholas Waters has taken out the first round of the Australian Prostock Championship at Phillip Island Grand Prix Circuit on the weekend; showing everyone that he means business. The youngster from Mildura in Victoria finished the round on a solid 45 points, starting off his season in the best possible way.
A steady start to Race one saw Waters in 4th place with some work ahead of him. Once settled he managed to work his way through the field into second lace which is where he finished the race. 6 Laps into the race he had noticed some rear tyre problems which turned out to be several large holes in the tyre making the second place result even more impressive. Keen to improve on his race one result Waters put his head down in race two. A solid and consistent ride saw Waters take a convincing win in the Prostock class; setting the fastest lap of the race along the way.
Waters: "The first round went a lot better than I thought it would. The weekend started off slow, but I got my act together and once I calmed down I found some consistency; which helped out big time in the races. I'm over the moon to have the 'Tool Chrome Company' GAS Honda on the Podium in both races and to be heading to round two at Hidden Valley with the points lead. Sure, there is still a lot more to come out of the new bike and myself but we are heading in the right direction. A big thanks to all the guys at GAS Honda, The tool Chrome Company, Garry House and Jodie Pitt for all their hard work."
Two great results and an overall round win is a credit to all who have been involved in getting the 'Tool Chrome Company' GAS Honda to the track, so thank you to you all.
The next Round of the ASBK will be held at Hidden Valley Raceway in Darwin on the 20-22nd of April.