Nick Waters Impressses at Eastern Creek on Superbike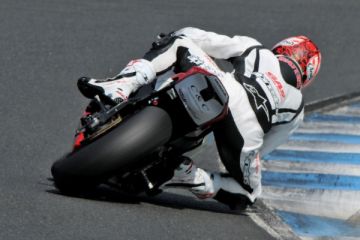 GAS Honda Racing's Nicholas Waters competed in the first round of the Formula-Xtreme Superbike Championship at Eastern Creek on the weekend, achieving great results. It was the youngster from Mildura's first time at Eastern Creek Raceway aboard a 1000cc machine and he did nothing but impress.
After starting Race 1 late on Saturday following rain delays, Waters was soon moving through the field from 16th position off the grid. Within the short 7 laps he finished the race in an amazing 5th place against some of the top riders in the country. With a progressive grid; Waters 5th Place finish in Race 1 saw him start Race 2 from 5th place. Waters was again chasing the leaders however a minor incident on the second lap saw him fall to the rear of the field. A great recovery saw his lap times matching those of the leaders as he made his way back to 19th Place.
Eager to improve on his results from Saturday, Sunday saw Waters again competing with the top Superbike riders in the field. A consistent weekend saw Waters finish with a 5th place in Race 1, 4th place in Race 2 and 5th place in Race 3, achieving his best lap times of the weekend and giving him an overall placing of 5th for the round.
A successful weekend at the Formula-Xtreme has the team looking forward to the next round of the ASBK Pro Stock Championship in Darwin. Waters will be heading to Darwin with the championship points lead and will be looking for more solid results up North.
The team is still currently chasing a major sponsor, for more or any more information please contact us