Waters battles to maiden ASBK Supersport race podium at Symmons Plains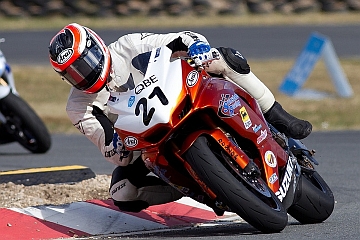 Mildura rising star Nicholas Waters has claimed his maiden Australian Supersport Championship race podium with a sterling third place in the second and final outing at Symmons Plains in Tasmania on Sunday.
The Waters Racing/Sunstate Racing Suzuki rookie qualified an impressive fourth fastest in Superpole on Saturday, however an opening lap incident with elder brother Brodie dashed his hopes of a top result when he was forced to retire from the opening race of the weekend.
Waters was involved in race two's spectacular five-way fight for victory, and after 20 hard-fought laps he was able to clinch third behind Team Suzuki's race winner Brodie and overall round winner Christan Casella.
"It's great to finish in third in race two and I can't say enough about my suspension technician Steve Mudford of Technical Partners – he has my GSX-R600 hooked up on rails now," the 17-year-old commented.
"Race one was a disappointing when Brodie made a racing mistake and crashed into me, but we were able to fix any damage to my bike in between races and my team did a really good job to help me get back out on the track for the afternoon."
Waters enjoyed a breakthrough weekend in Tasmania, which was just his third ever national Supersport event, finishing just 0.780sec off his victorious brother in race two – leading his first ever lap on the sixth of 20.
Despite his DNF in race one, Waters finished 12th overall for the round and is now focused on improving his 11th position in the series as the series heads to Hidden Valley in the Northern Territory on 14-17 April.

2011 Australian Supersport Championship
Round Two – Symmons Plains, TAS

Round Results:

1. Christan Casella (AARK Racing Triumph)
2. Brodie Waters (Team Suzuki)
3. Rick Olson (Yamaha Racing Team)
4. Glenn Scott (WNR Kawasaki)
5. Mitchell Carr (Carr Bros Motorsport Triumph)
12. Nick Waters (Waters Racing/Sunstate Racing Suzuki)
Championship Standings (after 2 of 6 rounds):

1. Christan Casella (AARK Racing Triumph) 77 points
2. Brodie Waters (Team Suzuki) 76

3. Aaron Gobert (Gobert Motorsports Yamaha) 71
4. Mitchell Carr (Carr Brothers Motorsport Triumph) 67
5. Kevin Curtain (Yamaha Racing Team) 60
11. Nick Waters (Waters Racing/Sunstate Racing Suzuki) 32