Nick Waters and Cube Racing 2nd Superbike at Philip Island 8 hour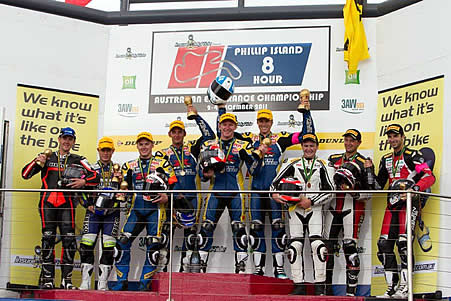 Nick Waters and his fellow Cube Racing team members, Bryan Staring and Ben Henry battled for the podium in the inaugural Philip Island 8 Hour Australian Endurance Championship.

The first 4 hours had Nick and his 2 borthers in their respective teams dicing for the first three positions. After numerous changes in the lead the positions settled and the Suzuki GSX-R1000 of Nick and Cube Racing settled into a comfortable third position finishing the race after 270 laps, just 9 laps behind the leaders.

The result marks what could be a family first in Australian road racing, with three siblings taking the top three steps of the podium in an Australian Endurance race. Josh Waters superbike team won the race and Brodie Waters Supersport team took second place overall. Nick Waters' Cube Racing team rounded out the podium in third positon overall and second superbike home for the day.