Waters stuns with debut Superbike podium at Australian Motorcycle Grand Prix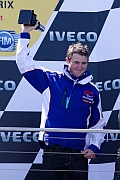 Mildura-based teenager Nick Waters captured a breakthrough podium on debut in the Australian Superbike support races during last weekend's Australian Motorcycle Grand Prix at Phillip Island in Victoria.
Contesting his first ever national Superbike event, the 17-year-old rode to a stunning third place finish overall with 9-4-6 results in an action-packed weekend of competition.
Waters rode against the nation's best Superbike riders for the first time, finishing ninth in race one despite an off-track excursion.
Race two saw him finish a fine fourth, while a wet third and final race of the weekend saw Nick seal the overall podium with a consistent sixth.
"It was pretty exciting and I really wasn't expecting to finish on the podium," Waters reflected. "Hopefully opened up a few people's eyes and can get something sorted for next year to ride the Superbike full time against the best.
Waters displayed maturity beyond his years throughout the weekend, quickly adapting from his regular 600cc machine to the powerful Honda CBR1000RR Fireblade, tuned by Demolition Plus GAS Honda Racing.
"The first race didn't go to plan as I missed a gear going into Turn Two and ran off, but I came back from 13th to ninth," he explained.
"In the second race I got fourth and I was over the moon – I just kept pushing and tried to do my best. The last race was wet, but it was a big experience in my first time on the Superbike in those conditions.
"The team set the bike up really good for me in the wet and it handled really well. I had a big moment, almost crashed, and it was a really exciting race.
"I really have to thank Demolition Plus GAS Honda Racing – Geoff Winzer and Garry House -, Honda Australia, APK Engineering, PitStop Motors and Tracy Osterfield for all of their help over the weekend."
Waters will now turn his attention to the final round of the 2011 Australian Supersport Championship, which will take place at Phillip Island in Victoria on 18-20 November.

Australian Moto GP ASBK Superbike Support Race
Overall Results

1. Wayne MAXWELL 68
2. Glenn ALLERTON 63
3. Nicholas WATERS (Demolition Plus GAS Honda Racing) 46
4. Robert BUGDEN 46
5. Chris TROUNSON 43
6. Trent GIBSON 38
7. Adam CHRISTIE 38
8. Jamie STAUFFER 37
9. Troy HERFOSS 37
10. Ben HENRY 30