Nicholas Waters wins 2011 Kirk McCarthy Memorial Award

Written By: Alex Gobert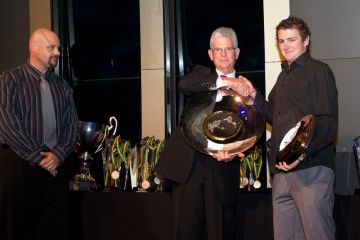 Regarded as one of the most prestigious awards in Australian road racing, for the 2011 Kirk McCarthy Award winner Nicholas Waters the honour means so much more.
The younger brother of ASBK star Josh and Australian Supersport gun Brodie, for Nicholas and the entire Waters family this award has a deeper meaning.
"I remember Kirk from back in the Dirt Track days when he was helping out Josh when he first started out," Waters said.
"We all looked up to him and he was always there to help us and give us tips."
The Waters and McCarthy families spent many weekends together at circuits around Australia, building a strong bond beyond racing.
For 18-year-old Nicholas the desire to do Kirk and his family proud will be his driving force in 2012.
"It's amazing to win this award and I'll be giving everything I have ensure I can do him proud," he said.
After a tough season in the Australian Supersport Championship alongside brother Brodie, Nicholas is hoping the support from the McCarthy family can help him realise his Superbike dream.
"The aim for next year is to get an Australian Superbike Championship ride and this award is as big a help as I could get," he said.
The Kirk McCarthy Memorial Award has been a stepping stone for talented young riders with 2010 winner Kris McLaren earning a Moto2 wildcard at the recent Australian MotoGP, while 2009 winner Cru Halliday claimed the 2011 Australian Prostock Championship.
The Award program was established by the family of the late Kirk McCarthy in conjunction with a number of industry partners to assist young riders in contesting future Australian Superbike Championship (ASBK) seasons.
In addition to the assistance of the McCarthy Family, Suzuki Australia, Monza Imports, Dunlop, Dave Roberts – Bandit, Troy Corser, Marty Craggill, Scott Williams, Darred Motors Body Work, Phillip Island Grand Prix Circuit, IEG and Motorcycling Australia have contributed to the award.